The Best Hog Roasts in Pwllheli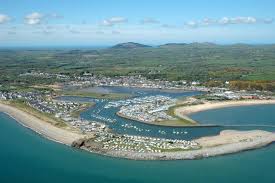 Answer me this question. If you were planning a special event or a party and you were looking to provide some catering, what would you do? Would you try and cook up something yourself whilst also trying to organise everything else, or would you call in reinforcements in the shape of a caterer and let them look after it all? Let's face it; the latter would be far simpler, wouldn't it? And a lot less stressful. Well, that's why there are people like me here!
I have been a hog roast hire Pwllheli caterer for around four years now and I have been doing my bit to stop people like you going into a total meltdown whenever the time arises to organise that special event. I love this job, love the reaction I get from my clients and I love the fact that I am helping make a big a positive difference to their special occasions.
A few years later and here I am, a fully fledged hog roaster with many Pwllheli hog roast events under my belt. I can honestly say that whilst it is hard work, it is amazing fun and incredibly rewarding serving some of the best tasting roasted pig you can find. Even better is the fact that I know that this really is special food that benefits from the love and dedication that you only get from true cooking.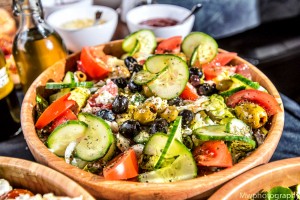 There's a lot more to it than I originally thought, though. I was never aware how much care went in to choosing the meat for hog roast. I quite wrongly assumed that it did not require anything particularly special but it does. Each hog roast cook uses only great quality pigs. I get these from my favourite local supplier who knows exactly the sort of pig that is necessary. These are all top pigs, well reared and the perfect amount of fat for the crispy crackling. And judging from what people tell me when they tuck in to my pigs, the quality really counts because the taste is superb.
Leaders in Our Field
I and my staff recently catered for a wedding reception with just 40 close family and friends. The actual wedding itself took place abroad with the couple looking to have the reception when they arrived back. As we arrived at the venue we were met by the bride's father who just wanted to go over the menu again and just make sure everything was going to be perfect for his little girl's day. Quite a touching moment I must say. The couple were the last to arrive to the cheers and applause of their wedding guests. Once everybody was seated and relaxed, we began to serve the starter which was fresh homemade tomato & basil soup with a crusty bread roll. The main was a choice of two roast meats (succulent roasted pork or local free range spit roasted chicken) served with their respective accompaniments, a choice of 3 freshly prepared salads and some warm new potatoes in herb butter. The guests were invited up to the serving table to choose their main meal from a buffet style spread (served by us). Sticky toffee pudding and chocolate torte were the two desserts available to the guests which went down a treat with all the guests, especially the children.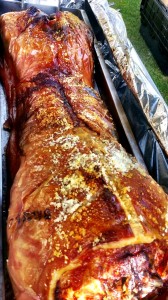 Something that is a little odd is that people assume that hog roast is a very expensive dish. I get calls from people who seem to be resigned to the fact that hog roast is going to way out of their budget, and they expect to have this confirmed when they speak to me. So you can imagine how surprised they are when I give them the facts about hog roast and explain that it's not quite the expensive feast they were expecting. Hog roast is a truly great value catering option for special occasions, and just because it looks expensive, doesn't mean that is the case. In fact, when you add in the factors that you are getting me (a chef) to spend six hours cooking your pig, and the fact that an average hog roast feeds over one hundred people, it actually represents a bit of a bargain!
I can make your event a great event and replace the bog standard catering you might have gone for with a first class 'hog' standard meal you and your guests will be over the moon with!