The Best Hog Roasts in Rhyl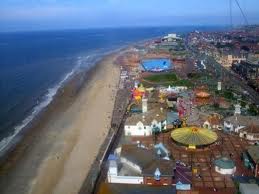 Hog roast Rhyl operates across the region to bring you a peerless culinary experience geared to your specific requirements. This holiday resort in North Wales is enjoying something of a renaissance as a tourist destination, and improved transport links are bringing in more and more visitors and businesses. The catering team here are enjoying a busy time at the moment, as word of mouth spreads about the wonders of the sights, sounds, tastes and aromas of our mouth-watering pig roasts.
Our presence at marriages, corporate functions and parties through the summer months is well-established. Increasingly, our customers are recognizing the decadent atmosphere and warming allure of the hog roast when the nights start to draw in and a rustic glow emanates from the depths of the roasting machine. Ornate courtyards, Indoor receptions, garden parties, beer gardens, festival parades and school fun days have all played host and borne witness to our specialized meat preparation skills. Taking the van out to Splash Point beach for a lifeboat fundraiser was a unforgettable day as the fresh sea air mingled with the rich, enticing aromas of juicy, marinated meat. The location proved no problem for the portable roasting machines, as they are built to the highest possible standards of safety and manoeuvrability.
In June, the annual Hard Rock Hell festival is held at a nearby holiday camp. The rockers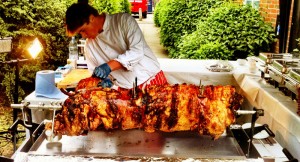 feel right at home watching the flames lapping against the juicy hog that slowly turns on our machines, transported back to a time of communal feasting they usually only hear about in the songs! They always make sure that they are well-stocked for these events, as a fluffy roll crammed with tender pork and a hunk of the crunchiest crackling in Cymru seems to be the ideal way to fill the belly and refuel between bands. It's not only quick, satisfying food on the go we provide: we have an impressive gamut of menus to suit every possible occasion: we will prepare starters, tasty side dishes, crisp salads and alternative options for a seated meal of multiple courses. Hog Roast Rhyl has a number of machines available, so we are able to cater for large gatherings and still your guests are not kept waiting to sample the delights of our hogs and other meats that are well-suited to this method of cooking.
Golden Sands Holiday Park has been the venue for a hog roast Rhyl event on a few occasions. Their most recent event saw them just hire a machine of us; choosing to roast and carve the hog themselves. Who could blame them? They had seen our expert staff cater events there before and must have seen us do it with precision and ease that they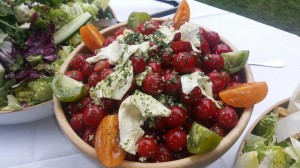 fancied a whirl themselves. With 200 guests expected to turn up they definitely had their work cut out for themselves. A short demonstration from our highly trained chef was given when we dropped the machine off which obviously gave a bit more confidence in his culinary skills.
Our staff has the benefit of years of expertise that has been passed on to ensure we deliver the very best in preparation, delivery, cooking and serving of excellently-sourced animals. Hog roast Rhyl also strive for customer service that is friendly, accomplished and leaves you to get on with enjoying your special day. If you like the sound of catering that provides a banquet for the senses as well as the stomach. Drop us a line via our contact form and we'll be in touch right away.