The Best Hog Roasts in Ruthin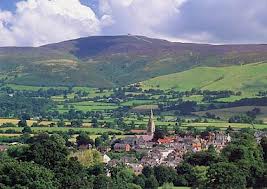 Living in Ruthin gives us many things; a quiet and beautiful environment in which to live, proximity to the coastline and all that entails, a strong sense of community and some wonderful history. But from my perspective as a hog roast Ruthin caterer for the Spitting Pig Company, I see things differently; how does a smaller sized community like Ruthin get quality catering without paying over the odds? A lot of the time we're happy to cook for ourselves, but what about that extra special event? The weddings, the anniversaries or just an extra big party! What do you do then? Here at Hog Roast Ruthin, we think we've come up with an excellent solution; a flexible service, but centred around a very simple concept – delicious hog roasts.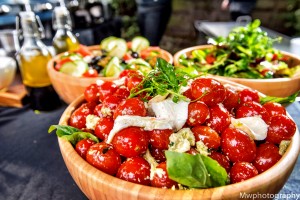 Today, it's not enough to be able to cover all the bases; caterers who don't just simply don't survive, and we're proud to say we not only cover the bases, we excel in all areas of our hog roast Ruthin food, and service. But what we're most proud of is the foundation of our catering company, and that's our hog roasts (and other spit roasts, too!) From the beginning, we've focused on how to make them as delicious as possible; that meant designing our own hog roast machines (donned the Hogmaster!) because we just were not satisfied with the available options. We still maintain that perfectionist spirit today, which is why we're getting a reputation for being an excellently efficient hog roast Ruthin Company which serves up mouth-watering food to boot.
Leaders in Our Field
To give you a better idea of what we do, I'll take you through the process of organising someone's event. Firstly, they (that's you guys!) come to us with the type and size of the event; it can be anything from a modest private party of say, 50-100 people, who just want to hire out one of our machines, up to a large corporate event where thousands of people are going to be in attendance. Once we've got an idea of the number and type of hog roast Ruthin event, we ask you to look over our menus and see which seems best for your event – but don't worry, if there's something particular you have in mind, mention it to one of our team, and they'll try their best to incorporate it into a menu, the chances are that we can definitely do it for you. Menus range from just a hog roast served up in a roll with all the trimmings and apple sauce – great for more informal events – to the full three course meal, from the canapés to the coffee. We have a hugely varied set of menus, so don't panic if you've got a lot of vegetarians or vegans in your group, or if you're worried it's going to be a meat fest (but who would worry about that, we say!)
Let me walk you through a recent event we catered for at Ruthin Castle. We arrived at the venue at 3pm; allowing ourselves enough time to set up the machine and roast the hog.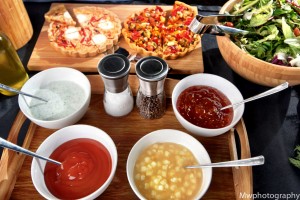 As it roasted away, we prepared 3 salads from scratch that would be served with the meal as well as warm new potatoes in herb butter. The customer had requested that a selection of cheeses and chutneys were laid out on the serving table for the main. It was a buffet style event with guests appearing at the serving table when the hog had been carved at around 9pm. Don't worry though, we never forget the vegetarians; we served them vegetarian quiche with all the same accompaniments as the meat eaters. Once all the guests had eaten their meals, they were left to party the night away as we cleaned everything up and left as the party got into full swing.
It's been a pleasure serving the people of Ruthin so far, and we thrive on working together with you guys to help you hold the best events possible, so don't hesitate to call us now to get planning yours.