The Best Hog Roasts in Shrewsbury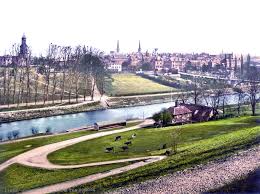 I absolutely love being the hog roast hire Shrewsbury caterer. I cannot honestly think of a bad word to say about my work. How many jobs can you think of that involved doing what you love and making people happy, day after day? Apart from a comedian, there can't be that many. I've not always been this lucky, mind. I have had my fair share of jobs that have been boring, dull and downright depressing, so finding a job that actually gives me job satisfaction feels like heaven! More importantly, I am getting the chance to make sure that there are many more hog roast Shrewsbury events than there have ever been before, which is great for me and brilliant for the food lovers of this famous Shropshire county town.
I first sampled hog roast back at university some ten years ago. It was fresher's week, so you can imagine what that week consisted of! Yes, lots of beer, cider and parties. Great fun but also a real eye opener. In fact it was all thanks to a few pints of real cider that I got to try hog roast. I had got into conversation with some real cider and real ale fans. They were explaining to me the joys of a quality pint of cider and said that I should try some with a hog roast roll. There was a stall selling hog roast rolls there that night, so we went over, cider in hand and got ourselves a hog roast roll. Plenty of meat plus crackling and sauce. Well, it was one of those eureka moments. The cider was fantastic, naturally but the hog roast roll was just out of this world. It was the most moreish and delicious thing I had tasted in years…and was probably going to be the most nutritious thing I would eat that term. I was hooked and could not wait to eat another.
Like so many other people these days, doing well at university and getting your degree is not the passport into a great job that it used to be, so I flitted about from job to job, hoping to find something that I could settle into. Then I remembered my hog roast roll at university. 'I could do that', I thought. Six years later and I am now a hog roast hire Shrewsbury caterer.
Leaders in Our Field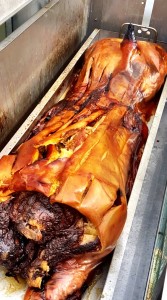 Hog roast Shrewsbury events in and around the town seem to be getting more and more popular, which is keeping me extremely busy. I think that lots of folk have grown tired of boring party and event food and are instead looking to exciting alternatives that guests perhaps don't expect. Hog roast seems to fit the bill perfectly in so many ways. I get asked a lot about the flavour and whether people will find it odd or not, but there's really nothing to worry about as hog roast is really just like incredibly tasty, succulent pork. The best pork you'll ever eat, in fact! And of course, if you really don't like pork or can't eat it, I can roast other meats instead, but hog roast is by some way my most popular request.
I love catering at wedding events because there is always plenty to do. I and my staff catered at a wedding recently where our spit roasted lamb was the meat on the menu. The same high level of hard work and dedication go into each menu we prepare and this was shown by the response we got to our spring lamb, seasoned with Rosemary, served with mint and mustard & dill sauce stuffed into a soft white roll received rave reviews with many guests promising recommendations.
A lot of the people I cater for are a little surprised at how long it takes me to cook a hog roast, though if you think about it, six hours is perfectly reasonable. You need to remember that this is a whole pig that's being cooked and not a pork chop! Big meat takes a long time, not only to cook through but also to help it really get tasty. A long slow roasting, as any top chef will remind you, is the most essential part of getting the best out of any joint of meat. It helps the infuse the meat with those amazing juices that contribute so much to the wonderful taste and mouth watering aromas that you only get with a hog roast.
Personally, I enjoy corporate events the best of all. I love the chance to show off a little and carve the meat in a professional manner. I add some of my stupendous crackling (seriously, it is stupendous), vegetables and potatoes and you have a seriously super Shrewsbury corporate meal that creates just the right impression.
I hope that, by reading about my life as a Shrewsbury hog roast caterer, you realise just how amazing hog roast is and how it can transform your event from something great into something really amazing. So go on, get booking that hog roast today!