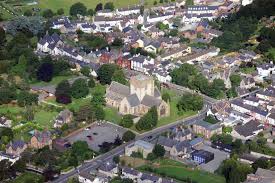 Hello from hog roast St Asaph, delivering the ultimate in hog roasts based in our successfully attained city status thanks in no small part to our lovely 6th century cathedral. This is no sprawling metropolis, being home to around 3500 inhabitants, but we like to think of our lovely little city as a cultural and commercial hub for the area. You'll sometimes see our vans bustling along the streets, equipped and ready with cutting-edge roasting machines, fantastic fresh animals and buffets, as well as expert catering courtesy of experienced roasting caterers such as yours truly (though I do say so myself). The rapidly developing business park on the outskirts of this city houses several companies at the forefront of modern technology. This has proved to be a real hive of fresh custom for us, as our unique style of catering allows busy workers to let their hair down in the midst of something altogether more alluring, traditional and decadent than the usual sandwich and muffin combination! Corporate provision is just as vital to us as the parties and social gatherings that keep us busy throughout the year. For committed vegetarians not to be tempted by melt-in-the-mouth roasted meat or deliciously savoury crackling, we have all kinds of alternative menus to choose from, which we put just as much care and attention into as the spit roast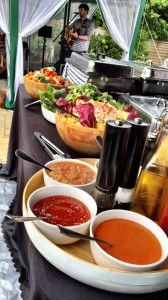 itself. We want everyone to go home feeling like they've dined on top-notch food and witnessed something special in its preparation.
Each year, our city hosts the North Wales International Music Festival, which features a multitude of performances of both traditional and exotic music styles, dotted across venues throughout St Asaph. Taking our machines out to the epicentre of the festivities creates a buzz all of its own, helping to spread the word about the wonders of fragrant, tender pig roasts to both locals and visitors from across the globe. This is not the pre-prepared meat slapped into a roll you might see at some festivals; the whole package of the sight of a juicy hog turning, the delectable aromas and even the sounds as it crackles and fizzes. This sends sensory messages to hungry passers-by who are drawn in to sample excellently-sourced meat and gorgeous crackling. We cater for celebrations of all shapes and sizes from marquee events such as this, to wedding parties and summer barbecues. The onset of winter doesn't mean that our appointments start winding down. Hog Roast St Asaph receives numerous bookings late in the year when the external warmth of and internal insulation provided by the spit is very much appreciated. At Christmas, too, we make sure we have menus available that incorporate a festive feel. Our machines can be adjusted to accommodate several turkey rotisseries, with the birds cooked to the same excellent standards as our other meats. Why not hire us for your next occasion and make it that bit more magical?