Hog Roast Aberystwyth has years of experience in providing tasty morsels of food for all kinds of parties and events all over the country, so if you're thinking of hiring caterers for your special occasion, give us a call and see just how we can make it go with a swing. Talking of swing, we actually catered a lovely wedding anniversary party over the weekend where the entertainment was an amazing swing band that had our Hog Roast Aberystwyth team members up on their feet as well as the guests!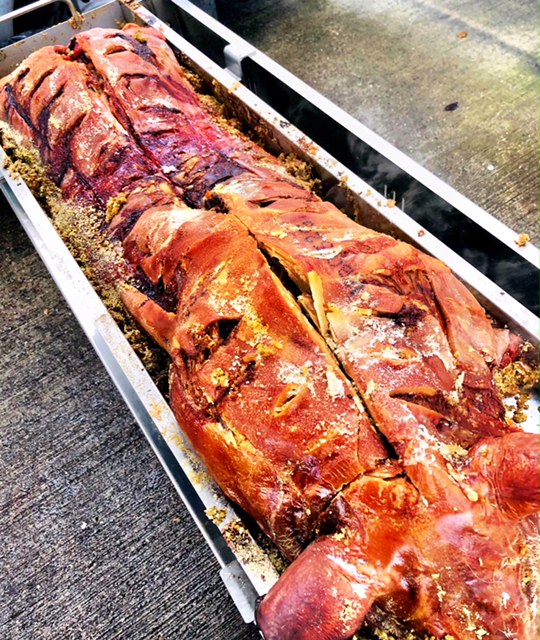 We love a good party, especially where food is involved as that's what we excel at, and we often love to join in with the festivities ourselves too. For Ray and Marlene's 50th wedding anniversary party, we were asked to cook a traditional hog roast at a local hotel, from which we would make pigs in buns, which you may well know as hog roast rolls. To create these pieces of heaven, we cook a high-quality, locally-sourced pig for a few hours from scratch at your venue, so we have to get there much earlier than your guests…
On Saturday afternoon, our Hog Roast Aberystwyth team arrived at the hotel around lunchtime, as we would be serving the food at 5.30pm. We first got on with setting up our gazebo and serving tables and then cracked on with preparing the meat to be roasted. After scoring the pig all over, we covered it in plenty of water to keep it moist and then massaged in lots of salt, which gives us the crackling. Our trusty hog roast machine then did most of the work for us, so once we had switched it on and set the temperature it sizzled away for ages while we kept an eye on it.
Later on in the day, we dished up our own apple sauce and sage and onion stuffing, sliced the bread rolls and arranged them with fresh wraps, and it was finally time to serve up a feast to Ray and Marlene and their 40 party guests and we even saved some for the swing band members. It all went down a treat and the couple booked us in for next year already!