Following our constant growth, we received a call a few weeks ago from a lovely engaged couple, James and Holly inquiring about a last minute wedding booking in the Hog Roast Holyhead area! We are very pleased to say that we did, of course, manage to get ourselves there and serve a lot of happy costumers – including the blushing bride herself!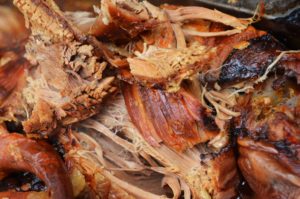 Even with only 2 members of staff in tow that day we did, in fact, manage to serve each and everyone of the guests at the Hog Roast Holyhead wedding (all 50+!) with haste, and continued to do so until we had quite literally no hog left to serve, leaving smiles all around for the guests and a well-earned beverage for us courtesy of the lucky couple! Despite the hordes of hungry family and friends our Titan hog roast machine looked after absolutely everyone with ease and judging from the numerous enquiries, messages and even reviews from the local area following this event we think it's fair to say it got people talking!
James and Holly themselves were overall exceptionally pleased with our service – so much so that they assured us that they would certainly be returning customers. We do pride ourselves on the good memories we leave behind – not just in the Hog Roast Holyhead area, but with our clients as a whole – and whether like James and Holly it's your special day or even if you simply feel like treating your staff to a hog roast we're always excited and ready to help your event make memories to last your guests a lifetime.
What's the moral to this story you may ask, and it's this: we prioritise your happiness above all else – and we're always flattered to be considered as part of your event, so whether you're local to the Holyhead area or if you're in one of our several other territories around the UK – for service you can trust, staff you can laugh with and food to get your mouth watering at the mere sight of, why not get in touch to see what we can offer you on your big day, birthday or any other event for you or even your business.