We've built up our fantastic party catering service portfolio over many years now and we're rarely surprised by what we're asked to cater. From corporate events to birthday parties, a retirement do to a baby shower, we've catered for so many different kinds of parties all around the country. Yesterday's dinner party that we provided the food for was something a little bit different – a fancy dress party with no theme. We have catered for many themed parties, but this one for Jilly's 30th would be filled with around 30 guests dressed as whatever they wanted.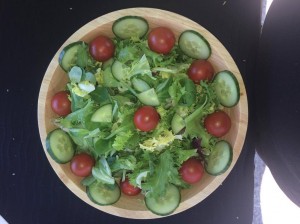 We sat down with Jilly to organise her party food. Her foremost request was that the main food be our tasty pig in a bun with apple sauce and stuffing, as it was her favourite dish. Being a real speciality of ours for a long time, we could do that no problem! When we cater for an event, we can provide the meat if preferred (or you can order your own and we let you know what kind of weight to get for the amount of guests that you have). When it comes to a hog roast for a smallish party, we spend a few hours roasting it to perfection after salting it to get that perfect, crispy crackling everyone tends to love. It's actually easier than you might think to roast a hog but it is important to keep your eye on it while it's cooking. Jilly also wanted some nice, simple salads, with lettuce, tomatoes and coleslaw.
On the day of the 30th birthday party, we arrived in the morning to set up our gazebo on Jilly's patio in her back garden in Caerhun. Some of her friends and family members had already arrived to help set up the decorations and there were oohs and ahhs while we set up the hog roast machine and scored the pig. We started cooking the meat and chatted to guests about our catering service and machine hire, as well as the fact that we sell our own machines. 3 hours later and the garden was looking stunning and smelled great from our hog roast in Caerhun. The rest of the guests started to arrive as we prepared the fresh salad dishes and then it was time to start carving off the crackling, to the delight of the crowd.