Hog Roast Llay loves a good wedding and at this time of year, we certainly have many of those to look forward to. Just recently, we were asked to cater a wedding in Crewe. It's not quite around the corner from us but also not too far to travel to either; we are often asked to cater further afield and it's never a problem.
For this weekend wedding, Tom asked Hog Roast Llay to provide not one, not two but three food services – one in the daytime for 100 guests, one in the evening for 130 and then a late-night service for 130, at Hall Farm, a dairy farm on Holmshaw Lane in Haslington. The daytime menu would feature a selection of tasty canapés served alfresco, some of our scrumptious Southern Slow Roast marinated meats and antipasti platters served to the tables and then finished off nicely with two of our yummy desserts. In the evening, we would be serving our Menu 1 of pigs in buns and chicken for the main course options, followed by a cheeseboard, and the choice of Eton mess or lemon tart for dessert. Finally, the late-night service would be delicious sausage and bacon rolls.
Our Hog Roast Llay Head Chefs Alex, John and Collette arrived at the venue hours before service and set up our equipment in the gardens. Once the gazebo and our serving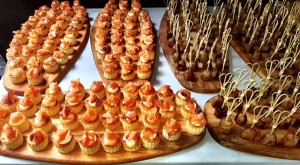 tables were up, it was time to start slowly roasting the meats for the daytime meal and to create some gorgeous canapés that we knew the bride and groom and their guests would be delighted with, such as lamb, roast beef and salmon, as well as antipasti including meats, cheese and olives. The venue had been decorated beautifully, with the colour of the marquee co-ordinating wonderfully with the decorations, tablecloths and chair covers, and each table had a lovely vase of flowers and bottles of wine. We added breadsticks and serving oils to the tables, as well as fresh bread rolls and got ready to provide the first service.
By the end of the night, after serving plenty of food throughout the day, we had done ourselves proud. We outdid ourselves with the food presentation and had lots of compliments from the lovely guests. It was a pleasure to cater this celebration.