If you work in catering and hospitality and you are looking for a way to jazz up your festive menu and expand your repertoire for outdoor events over the Christmas period, when it comes to a winter warmer that will put a smile on everyone's face, it doesn't get much better than a hog roast!
Hog roasts are the perfect outdoor catering option for any large-scale event if you want to offer your clients quality, quantity and the pleasure of savouring the eight and aroma of their food being prepared before their very eyes.
Whether you have used a hog roast machine before, or it is something new that you are considering, here at Hog Roast, we have a range of models available for hire over a short- or long-term period.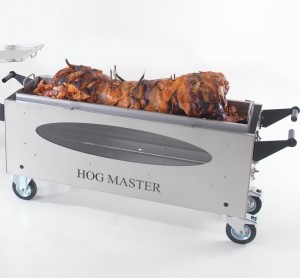 If you hire a hog roast machine from us, you will be using some of the most advanced hog roast catering equipment that is currently available on the market, as well as benefiting from our expert advice. We will ensure that the machine you hire meets all of your requirements, depending on whether you will be using it to cater for large-scale events, smaller Christmas parties or you would like to prepare other dishes at the same time too.
Even if you don't have much experience with hog roasts, our knowledgeable team will talk you through everything you need to know, give you some top tips for cooking a beautifully succulent hog and we can even help you out in sourcing some fantastic UK-reared free-range pork if you need us to.
Hog roasts aren't just a great Christmas catering option – they are a popular and versatile event catering solution for all manner of events throughout the year. Many of our clients who hire hog roast machines from us love them so much that they go on to buy one, so if you would like to see for yourself how a hog roast machine could enhance your event catering services, please contact us here at Hog Roast Barmouth to find out more!