The requests for corporate catering have been flooding in ever since lockdown restrictions were lifted, and Hog Roast Flint has been enjoying every minute of it! Building connections with local businesses and helping companies celebrate their achievements is a hugely rewarding experience for us. In fact, we love it so much that sometimes, we even take on requests outside our usual vicinity – like last month, when our team travelled to Wirral for a business lunch.
The client, Benjamin, from CQR Security Ltd, had organised the event as a way of thanking staff for working so hard through what has been such a difficult year, and our crew were more than happy to assist with the small-scale gathering he had in mind.
With 40 people to please, including a small number of vegetarians and vegans, the client had opted for our Gourmet BBQ Menu, which is ideal for those who are looking for a more grab-and-go style of catering. Benjamin was really pleased with his decision, and even more so with our catering manager, Alan, who made sure the booking process ran smoothly and that there were no hiccups along the way.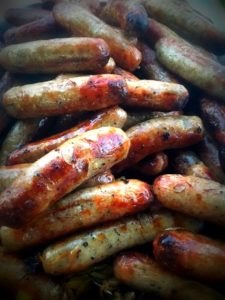 When it came time to celebrate, Alan drove a small number of Hog Roast Flint's best caterers to the CQR Security Ltd premises, where they promptly began unloading the van and setting up the equipment in the car park. Sometime later, the homemade burger patties and sticky BBQ ribs were sizzling, the gourmet sausages spitting and the Thai chicken kebabs grilling nicely on the HogMaster, which filled the site with an amazing concoction of mouth-watering aromas.
To accompany the meaty mains, Alan and the  Hog Roast Flint team prepared a bowl of our signature coleslaw, Greek salad and piping hot fries, which were presented alongside gluten-free rolls and plant-based options of grilled veggie skewers (halloumi optional) or BBQ pulled jackfruit.
The whole feast was served on our environmentally-friendly wooden crockery with matching cutlery at 1pm that afternoon, and the guests were blown away by the presentation of everything. More than that, though, they were stunned by the rich, fresh-tasting flavours that our team had created!