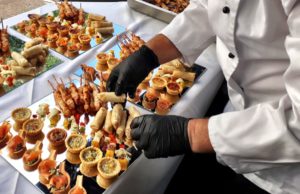 Weddings are cherished milestones, and every couple dreams of a day that transcends perfection. In the heart of North Wales, Hog Roast Flintshire understands the importance of flawless execution, which is why we stand as the unrivalled choice for catering services in the region. With our seasoned catering manager, Terry, leading the way, we bring your wedding visions to life, ensuring every detail is impeccable.
Recently, we had the privilege of helping Isha and Theo turn their dreams into reality at one of Wales' stunning castles. The historic setting provided the perfect backdrop for their fairytale wedding, which was attended by 200 guests. As the couple exchanged vows and posed for photos, Hog Roast Flintshire was busy at work, preparing the afternoon feast that would leave a lasting impression.
For this grand occasion, Isha and Theo selected our "Wedding Catering With Canapes and Drinks Service Menu." As the guests entered the dining hall, our serving staff welcomed them with filled flute glasses and a sumptuous selection of canapés. The tantalising display featured pan-seared fillet of beef, handmade gourmet sausages, chicken liver parfait, mini quiche, and chicken satay skewers. It was a captivating culinary prelude to the grand banquet that awaited.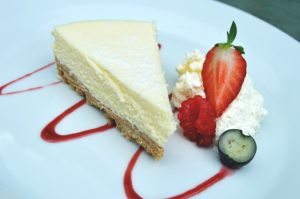 The main course followed swiftly after, which saw guests treated to a buffet of culinary delights. At the centre was a whole-roasted free-range pig, complete with crispy crackling, applesauce, and stuffing. Free-range chicken seasoned with thyme and sea salt, served with butchers' chipolata sausages and fresh brown bread, provided a mouthwatering alternative. And for the vegetarian and vegan attendees, we served BBQ-pulled jackfruit rolls with crunchy slaw. To accommodate the various dietary needs, we also presented a basket of gluten-free rolls and wraps, an assortment of sauces and dips, and an array of delectable side dishes, including coleslaw, salads, and dauphinoise potatoes.
The banquet was an overwhelming success, and the guests could not resist returning for seconds. As empty plates were refilled, laughter and clinking glasses filled the air, painting the scene of a joyous celebration.
Once the final crumbs had been savoured, Isha, Theo, and their guests moved to the dance hall to continue the festivities. Meanwhile, Hog Roast Flintshire's dedicated team worked diligently, tidying away the remnants and expertly packing up the catering van. Our commitment to delivering unforgettable culinary experiences ensured that Isha and Theo's wedding was truly a fairytale celebration, leaving indelible memories etched in the hearts of all who attended.