Pub quizzes are always a lot of fun and they are great for attracting new customers to your venue. A great way to boost your event is to provide a delicious menu for customers to enjoy during the interval, and Hog Roast Bethesda has plenty of options that are ideal for this occasion. Here is what you can expect when you book in with our team…
Laurence runs a pub in North Wales and is currently in the process of planning events to run through autumn and winter to attract new customers to the venue. Summer is the busiest time of year for the pub, with the beer garden always overflowing with customers, and this year Laurence wants to see what he can do to keep as many guests as possible coming in the colder months. One idea he had was to host a pub quiz for the guests to enjoy, with the addition of catering from Hog Roast Bethesda. For the menu, our team was hired to serve a classic hog roast at the pub, with a tasty meat-free dish also on offer.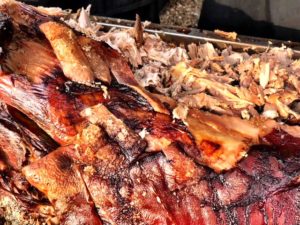 On the day of the quiz, our catering manager Terry arrived at the pub in the morning and set up our catering station in the beer garden. We began the prep by slow-roasting the hog and ensuring that it was cooked to perfection. Once ready, it was expertly carved and served in fresh bread rolls, alongside sage and onion stuffing, homemade applesauce, and crispy crackling. For meat-free dishes, we served BBQ pulled jackfruit in bread rolls, as well as homemade chips and a selection of seasonal salad dishes. The pub quiz was a great way to attract new customers to the venue and is definitely something that will be taking place frequently from now on.
Are you in need of a caterer for your pub or bar in 2023? If so, simply let us know your party size, date, and location and we can do the rest. We hope to hear from you soon!