While our Hog Roast Rhos team members are all about the food, which is homemade, tasty goodness, we are also all about service and ensuring that our customers and their guests are provided for in every possible way. If you're thinking of hiring caterers for your special occasion, whether that's a milestone birthday, celebrating an engagement or anniversary, for a posh wedding feast or a huge corporate function with hundreds of people invited, we will do our best to make it just as you imagined.
When Hog Roast Rhos heard from our long-time customer Michael recently, it was to see if we could fit him in for a party at home to celebrate his son passing important exams and being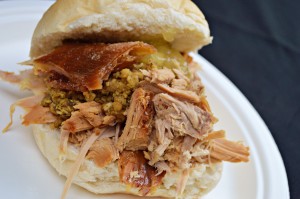 promoted. Having used our catering services for his business needs in the past as well as when socialising with family and friends, Michael knew that we would cook gorgeous food using fresh ingredients and go the extra mile to make sure everyone would be well-fed. While he always asks us to cook a centrepiece hog roast for his guests, sometimes his guests have dietary needs that need catering too, and on this occasion, his son's vegetarian girlfriend would need a dish of her own. This is never an issue for us here at Hog Roast Rhos, as we have plenty of options for various diets.
On the day of the party, our team arrived at Michael's home a few hours before serving time, to start roasting a hog from scratch. The vegetarian option of veggie skewers, with fresh halloumi and seasonal vegetables, would be grilled nearer the time of service. After prepping the meat by scoring it all over and covering it in water to keep it moist and smothering it in lots of salt, to produce plenty of crackling on the outside, the hog was ready to sizzle away for hours on end.
By 5pm on this rainy day, all the guests had arrived and it was time to serve up scrumptious pigs in buns and yummy veggie skewers. Most of the guests stayed inside and we passed the food to them from where we were set up on the patio but Michael and his son stayed outside under our gazebo, close to the succulent meat, where they could get seconds and thirds served to them as soon as possible.