Recently,the Hog Roast Wrexham team were hired by Val from Hydro Aluminium Deeside Ltd for a festive style party. The company located on Wrexham Industrial Estate and the event was to serve the staff a lunch time Hog Roast. Val did a great job of organising the event and the team served the company's staff their special lunch on site.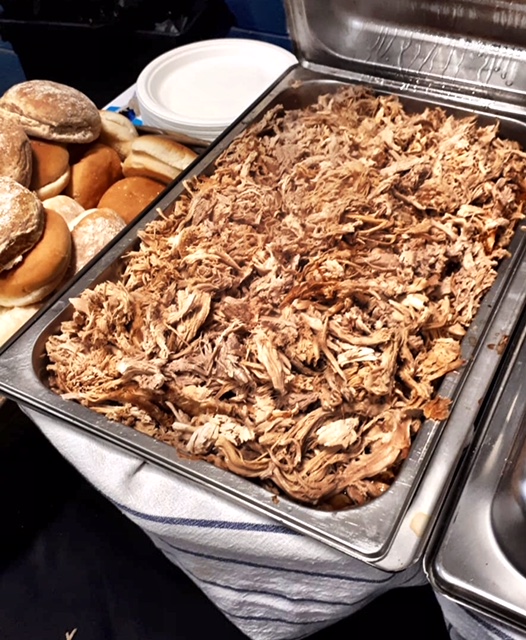 Val selected 'Menu One' offered the Hog Roast Wrexham team. She selected the traditional Hog Roasted Pig which was cooked on site in the team's professionally Hog Roasting machines. She also chose a second option of vegetarian skewers for those who preferred not to eat meat. The event was for fifty people, a great party size for the Hog Roast team. Val also requested for the food to be served at noon so that all of the staff could get their Hog Roast food during their lunch break and no one missed out. Therefore, it was very important that the Hog Roast Wrexham team got all of the food out on time.
The service was led by Helen, the Hog Roast Wrexham team's head chef. She ensured that all of the food was cooked to the high standards that the team uphold and made sure that her team maintained the quality of the food across the board. The staff appeared to really enjoy the food and it was a great way to celebrate the festive season with a traditional Hog Roast. The buffet went down very quickly as the staff enjoyed their lunch time treat but the team ensured that they kept on top of the buffet so that the staff did not run out of food. Overall, the event was a great success and the staff really enjoyed the food. The event was perfect for the Hog Roast Wrexham team as this is exactly the type of event that suits the team. They are presented with a large number of guests to serve at a venue at which they can arrive, quickly set up, cook and serve the food and then pack up discreetly and quickly to leave the event once the food has finished.