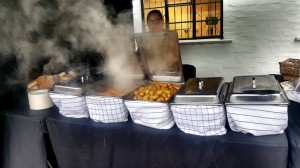 IMC Limited is a local catering installation company in Wrexham and they recently contacted Hog Roast Wrexham asking if we can cater for 70 factory workers and office staff at their premises at a company event.  We regularly cater for many local organisations, weddings and private parties and so, of course, we jumped at the chance and liaised with the client to determine which menu and choices they required for the event.
There are so many good eating places locally and remote caterers, that we know that we must deliver great quality food with exceptional service, each time, every time and having the right choice of menu with the ability to tailor to specific requirements is essential.  After discussing with the client, we determined that our Southern Slow Roast Menu would be ideal; this includes BBQ Pork Butt, Texan 24-hour Beef Brisket, Cajun Spiced Whole Roast Chickens, Memphis Style Crunchy Coleslaw, Corn Cobettes, Seasonal Green Leaf Salad and
Skin-On Southern Style Whole Bakes Potatoes – all really delicious and served with masterful skills!
Even though this event was relatively small, we always make sure that every event, no matter how big or small, is special and delivered with the utmost care.  We always endeavour to not just fulfil the client expectations but to also surpass them on every occasion whether it be a wedding with over 500 guests to serve or a private party for 20 people; we have a menu and service plan to suit every event and budget.
We arrived well before the event was due to start and liaised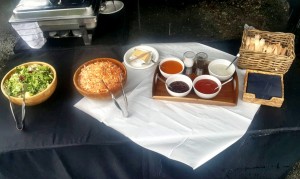 with the organiser to discuss set-up time and access for loading which was pretty straightforward.  Once the guests started arriving we got the hog roast started so that everyone could smell the mouth-watering aromas to get the stomach juices flowing and this created immediate interest with many guests chomping at the bit to eat some of the delicious hog, meats and veg that we had prepared.  There may only have been 70 guests but my goodness, there was nothing left at the end of the party with everyone coming back for seconds!