With a scrumptious Hog Roast Wrexham winter warmer, we can wow your guests as they feast on hot, tasty food until they're full to the brim, and we're sure you'll be more than impressed with our top-notch service as well as the cost. While you're saving a pretty penny, you'll also save on the washing up, as when we cater, we clear away afterwards, leaving you to spend more time relaxing with your guests and enjoying our wholesome food.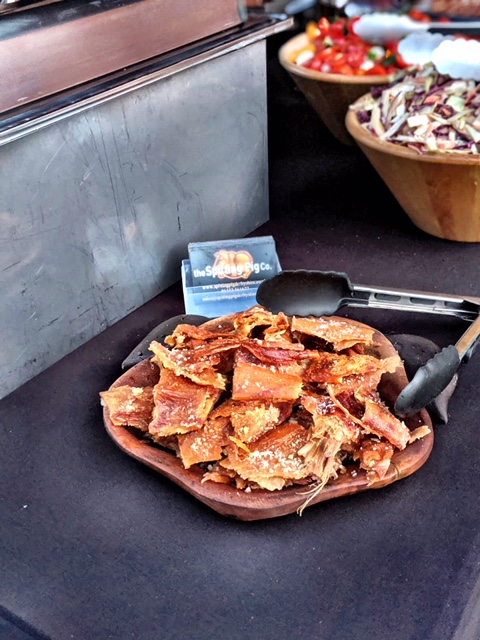 Our Hog Roast Wrexham winter warmer is also popular in the autumn, once it starts getting chilly, so even at this time of year, a plate of hot, tasty meat, vegetables, potatoes and trimmings are sure to warm the cockles and our choice and variety will not disappoint. You may prefer us to serve a hog roast winter warmer, with pork, crackling, seasonal veg and potatoes of your choice, apple sauce, sage and onion stuffing and our onion gravy, or perhaps a turkey winter warmer, with trimmings that you'd expect like homemade cranberry sauce and stuffing instead. Either way, you get to choose exactly what you know your guests will love, and that goes for those with dietary needs too…
If you're inviting guests who are vegetarian, vegan or follow a plant-based diet, we have an array of delicious dishes that our chefs can whip up on the day of your party or event, such as veggie skewers, quiche or stuffed vegetables. Plus guests who need a gluten-free or dairy-free dish can easily be catered too, as long as we have advance notice, and if there are any other diets that you need covering, Hog Roast Wrexham will do you proud.
When Eric asked us to cater his girlfriend Diane's birthday party, he knew she'd love our pigs in buns, made from a freshly-cooked hog roast, as well as most of their other thirty guests but he also needed to ensure that their vegetarian guests would be able to eat well too. With our gorgeous halloumi skewers, made with a rainbow of veg, they certainly did, and all of the food we served on this day was devoured with absolute relish, including our famous pigs in buns, which Diane adored.