Have yourself a holly, jolly Christmas by leaving the cooking in the hands of Hog Roast Caernarfon's catering experts this holiday season! Whether you're searching for that quintessentially festive feast or something that is a little bit different from the norm this year, we've got the perfect menu to get your taste buds a ring-ting, tingling – and those of your guests, too!
Between our moist and succulent turkey dinner, exquisite slow-roasted free-range pork and our mouth-watering meat-free menu items, we'll make sure that everyone feels well taken care of at your celebration; and with our catering manager, Alan, on hand to help you with all of the planning, you'll be able to put your feet up and truly relax, whilst we take care of everything food-related. Now, seriously, how often do you get to do that during the busiest party season of the year? Our guess is probably never, are we right?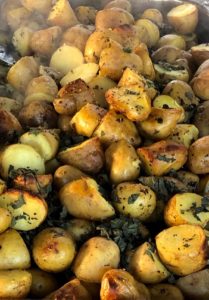 This December, however, times are a-changin', as after missing out on all the fun last year, Hog Roast Caernarfon is more committed than ever before to making sure that our customers, clients and their family, friends and colleagues, all experience the best Christmas ever! While it might sound like a tall order to fulfil, we're confident in our team's ability to deliver.
So far, we've had loads of amazing people taking us up on the offer of one of our delicious Christmas menus, including Oliver and Gwen, who, after purchasing their first home earlier this year, promised to host this year's family dinner. It wasn't long before the pair realised that cooking for a group of thirty-odd people is a lot easier in theory than it is in reality!
With fussy children to feed, elderly relatives to appease and veggies and vegans to make feel welcome, Oliver and Gwen quickly felt out of their depth when it came time to draw up a menu that would work well for everyone. Fortunately, Hog Roast Caernarfon was on hand to save the day, and thanks to Alan, the pair are going to smash it as first-time Xmas-day hosts!