When our new customer Gloria contacted Hog Roast Talacre, she had been recommended to us by friends who had enjoyed our pigs in buns, which you may know as hog roast rolls. To make these amazing slices of heaven, we source a fresh, high-quality pig from one of our trusted suppliers who we've worked with for many years, prepare and roast it on the day of your party or event, where it sizzles away slowly for hours on end until we get a perfectly crispy outer, full of salty, crispy crackling, and a perfectly moist and tender inner, with meat that just falls off the bone and melts in your mouth. Then we cram pieces of the meat and crackling into soft bread rolls (and/or wraps if preferred), add a dollop of our homemade apple sauce and a dollop of our homemade sage and onion stuffing and then hand over to you and your guests to devour – with or without your favourite condiment. They're loved by many and once tried, they are never forgotten.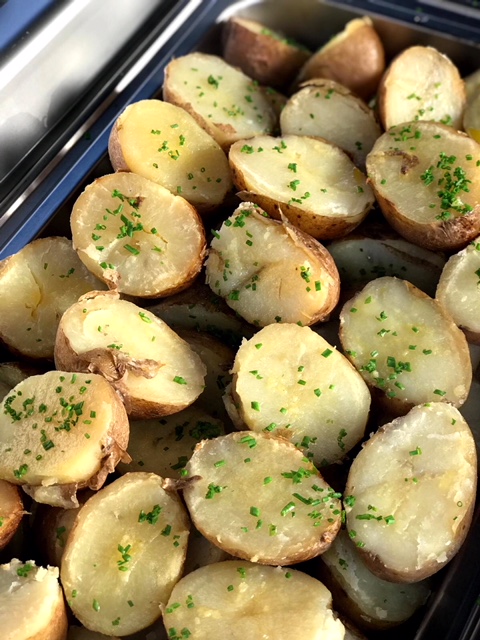 Nevertheless, Gloria was intrigued to find out that Hog Roast Talacre can actually provide so much more choice and variety if needed, including options for special diets like vegetarian and gluten-free, additional dishes like starters, sides, desserts and canapés, as well as special menus like our Southern Slow Roast, winter warmer and loaded fries – the latter which we recently introduced. Gloria decided that for her carnivore guests, our pigs in buns would be ideal, and she also selected veggie skewers for the vegetarians and sides of skin-on jacket potatoes and homemade coleslaw, which everyone could enjoy.
It came round to Gloria's party yesterday and early afternoon, our Hog Roast Talacre chef and catering assistant set up our equipment and got on with cooking the medium-sized pig at the venue, her large back garden. Hours later, we freshly prepared halloumi, tomatoes, courgette, mushrooms, red onion and mixed peppers for the skewers, cooked piles of jackets and made our coleslaw, apple sauce and stuffing, and by 6pm, we had a glorious feast ready for Gloria and her guests and they couldn't wait to dig in.