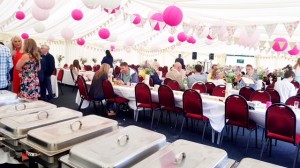 Hog Roast Heswall has had the pleasure of catering all kinds of functions for many friendly folk all over Merseyside and further afield, but recently was probably the first time we'd catered at a boarding kennels! Stuart and Melanie, the owners of Ivy Boarding Kennels at Storeton Lodge Farm on the Wirral, decided to get married at their business premises, so we were asked to provide a hog roast for 130 guests for their reception meal.
In addition to roasting hogs to absolute perfection for your special occasion, it may well be useful for you to know that we can also provide much more for your wedding celebration, birthday party or corporate do – or for any other kind of event that you can think of, for that matter. Here at Hog Roast Heswall, we go the extra mile to provide plenty of variety for our customers, whether you fancy a spit-roasted turkey, chicken, hunk of lamb or beef, some barbecued food, or a posh sit-down menu. Formal or informal, with hundreds of guests or just a handful, we can do it all, and in style, too. A hog roast centrepiece itself is truly something your guests will never forget, from the amazing sight to the wonderful smells and then, of course, the delicious taste, as the pork melts in your mouth and you crunch away on the salty crackling.
On this particular day, Stuart and Melanie knew they wanted our signature food of a slowly roasted hog to serve to them and their guests, so Hog Roast Heswall got to the venue hours before the meal service, in order to prepare the meat for a good old roasting. The venue had been decorated beautifully and the wedding cake was a stunning masterpiece – surely too good to eat! We got on with unpacking our equipment and prepping the meat, and then watched over it while it cooked.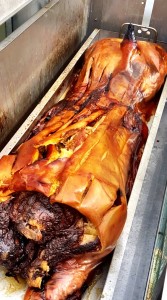 Hours later and we were serving the happy couple, now Mr. and Mrs. Cooke, and dozens of their guests some smashing food and getting lots of lovely compliments. Plus the plates all came back clean, which is always the best compliment we can get.