Started this weekend off by providing the vittles for a very energetic 21st birthday party with a hog roast Wrexham. We're very adept at catering for birthday parties, and are more than used to doing so. We've seen quite a few over the years, and whilst each and every one obviously has it's own particular special aspects (no two individuals are exactly the same after all…) it is definitely the case that some stand out a little more than others, and I suspect this will go down as one of them.
The party was guests were due to start arriving at around 7:30, so we got ourselves to the venue mid morning to start off the slow roasting of the hog roast Wrexham, for as always, it can take up to 8 hours to properly roast a whole pig (anyone who claims to be able to do so in a shorter period of time is either blatantly fibbing or not doing it properly) to ensure maximum succulence. This left plenty of time for our chef and assistant to freshly prepare the salads, stuffing and applesauce, then make sure all the condiments are set out on the serving table and the freshly baked bread rolls are sliced up ready to serve up when the guests arrive.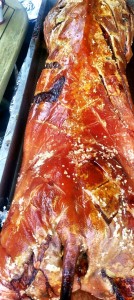 Now, obviously the guests don't have to be fed as soon as they arrive, and that's not a problem, as one of the other benefits of the slow roasting process is that a bit of extra time on the spit doesn't reduce the quality of the juicy slices of tasty pork, but in this instance I have to say that it was possibly just as well some of the guests didn't choose to fill up early on.
Birthday parties often have dancing. This is to be expected, and it's not contra-indicate in association with delicious hog-rolls, not stuffing, nor crackling. But some of these folks weren't just dancing; they were leaping, spinning, twisting and deploying motions for which there are insufficient verbs. Dancing is not a word that does them justice; gymnastics might come closer as a descriptor.
We pride ourselves on being a friendly bunch, and though interacting with our client's guests is a part of what we do whilst slicing the hog and serving up the slices, on this occasion I felt I had to decline the kind offer to be shown how to dance in an 'Old School Northern Soul' fashion, courtesy of various Youtube videos, and (probably thankfully) there wasn't time to set up a horizontal pole for my signature limbo moves, but it did raise the question of whether or not it'd be theoretically possible to limbo beneath a whole hog on a spit whilst someone else simultaneously leapt over the top of it. But for now, at least, hog-roast dancing is an activity left to the imagination. We will stick to what we are good at; providing delicious hog roasts Wrexham.