Surprise parties – what a lovely idea! Birthdays, anniversaries, congratulatory events, I've seen a wide range of different occasions celebrated in this way but last weekend was my first time catering for a surprise engagement party, and it has to be one of my favourites! The party held in Rhyl was a surprise get together for Emma and Neil's engagement, arranged by the lovely ladies Emma had appointed as her bridesmaids. The delightful couple were planning on a lavish and exotic wedding in Mexico, the very place they got engaged and so obviously budgets are tight as they save all they can for their special day. That where Amy, the maid of honor comes in by organising a surprise engagement party for the couple as they could not afford to host one themselves. The venue was at a quaint pub where Amy works and so the scene was easily set as she invited Emma and Neil over for an after work drink together – little did they know that 150 of their friends and family were giddily waiting behind the doors to greet them!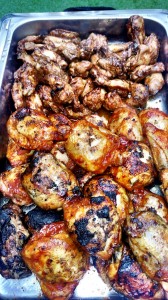 Unfortunately, a gloomy and wet day decided to greet myself and my team as we arrived at the party venue late morning. Fortunately however, the venue had a covered gazebo area at the side of the property where we were able to prepare our food, set up our gold standard equipment and get stuck in cooking up a delightful hog roast Rhyl feast for the guests. One of the most important aspects of getting any culinary task perfect is really nailing the preparation, and to ensure maximum freshness and home cooked flavours we prepare all of our food on site. We whipped up our delicious apple sauce and a comforting sage and onion stuffing to accompany our spit roasted chickens and our famous slow roasted free range hog. Further, we prepared a couple of extra sides to accommodate our hungry guests including a tasty gourmet coleslaw and our jacket potato wedges (a huge hit as ever!) – fluffy insides encased in a crisp and hot outer coating. Simple, but tasty!
Before long, the happy couple were arriving to a very loud 'SURPRISE!' as hugs, laughter and gifts greeted them. Guests were soon tucking in to some delicious foods provided by ourselves at hog roast Rhyl, with one lovely gentleman even jotting down tips from myself on how to get such beautiful crackling!  What a lovely weekend and a great party! All the best to Emma and Neal from everyone at hog roast Rhyl!