There's still time to book in your work Christmas party with Hog Roast Moelfre, and we're sure that you and all the guests will love our festive menu and will feast like kings. With choices of mains, as well as sides and desserts, everyone will be impressed no end, and if you need or want more dishes served, just ask away, as we can cater with additional food, such as canapés.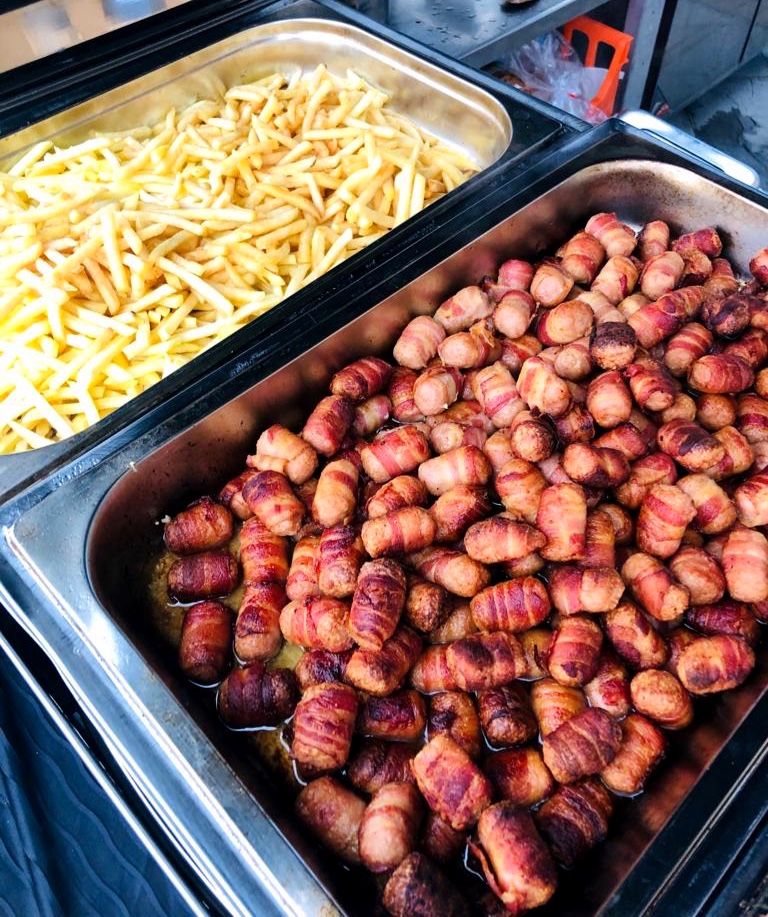 With our Hog Roast Moelfre festive menu, you have three delicious main courses to choose from; the two meaty possibilities are a slow-roasted free-range hog, together with crackling and homemade apple sauce and stuffing, or whole-roasted turkeys, served with fresh cranberry sauce and stuffing. There's also a homemade vegetarian main of grilled vegetable and halloumi skewers if needed, to be enjoyed in wraps with Tzatziki, and they can even be made vegan by omitting the cheese.
You also get several moreish sides of roasted potatoes, a seasonal vegetable medley, homemade cauliflower cheese and pigs in blankets, all generously smothered in our tasty onion gravy, and if anyone has any room left, dessert is traditional mince pies served with brandy cream.
While we can serve up all kinds of other mouthwatering dishes here at Hog Roast Moelfre, like a hog or spit roast, a barbecue of burgers, ribs and sausages or a standalone menu like our Southern Slow Roast or our Loaded Fries, a festive feast can certainly get everyone into the Christmas spirit.
For a corporate event that our team catered on Tuesday, we served up just that, featuring two mains of turkey and the vegetarian skewers. The first order of the day was preparing the fresh, high-quality, local turkeys, which we then slow-roasted over flames for hours. Later in the day, we freshly prepared halloumi and various veg for the skewers, sides of cauliflower cheese, sprouts, peas, green beans, carrots, pigs in blankets and roasties, and our trimmings of apple sauce and stuffing. There was so much lovely food!
We had many compliments about the moist meat, scrumptious skewers, finger-licking pigs in blankets and so much more that we served that day that we lost count! Everyone had full tummies when we left, that's for sure.