Aptly nicknamed 'the land of castles', Wales has more castles per square mile than any other country in Europe. In total, there are 427 of them, which means you're never too far from one of these ancient fortresses! And with each one being completely different to the next, you'll never grow tired of visiting these testaments of Welsh history for a spot of sightseeing.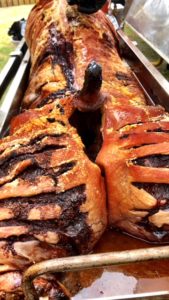 There's also something incredibly romantic about castles, which makes them a great location to tie the knot. And in our time as caterers, Hog Roast Bodfari has had the utmost pleasure of witnessing many, many weddings take place on castle grounds. The most recent occasion went ahead last Saturday after we had been asked to cater for Molly and Evan's wedding reception. This event took our team slightly further afield than usual, but the travel was well worth the results!
With spring in the air, the sun shining, and the flowers in full bloom, Molly and Evan couldn't have asked for a more beautiful wedding. Looking as though it had been plucked from a storybook, the ivy-covered castle venue they had chosen was bursting at the seams with vibrant colours.
Since the weather was lovely, the bride and groom had opted to enjoy their reception dinner outside under a canopy of hanging wisteria. While the pair were getting hitched, Hog Roast Bodfari busily prepped the food and decorated the long table, which had enough room for all 40 guests to sit at, with a crisp white tablecloth and topped off with real crockery and cutlery, lit candles and plenty more flowers. The setup felt very regal, and when the wedding party arrived to celebrate, they were rendered speechless! Completing the experience, Hog Roast Bodfari then presented the group with our Formal Wedding Catering Menu, which began with a drinks service and canapes (these were served to the guests as they arrived by our waiting staff), followed by a delicious 3-course meal.
The guests loved the homemade soup starter, which was closely followed by a buffet of slow-roasted pork, free-range chicken or grilled vegetable skewers with a variety of side options. And for dessert, everyone had the choice of sticky toffee pudding or vacherins of strawberries and passion fruit cream with tea or coffee. Molly and Evan were ecstatic with the results, and so were their guests! Thanks to Hog Roast Bodfari covering the catering, they were able to enjoy their special day without worrying about a single thing.