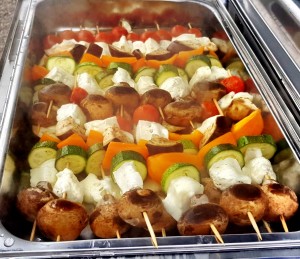 Hog Roast Ruthin has catered all kinds of different parties and events over the years, including weddings, private parties and corporate functions. Regardless of type or formality, we cater everything in the same professional manner, ensuring to make quality dishes out of local, fresh ingredients that everyone will love. While we are well-known for our delicious hog and spit roasts, we like to make sure that everyone can enjoy our scrumptious food, so that means we offer plenty of variety to cater for different tastes as well as for different needs.
Hog Roast Ruthin was recently asked to cater Nu Instruments' annual meeting. Based in Wrexham, Nu Instruments is a British company that specialises in the design, manufacture and installation of high-precision scientific analytical instruments. For this corporate event with 100 guests, we were asked to cook our highly popular Southern Slow Roast Menu at Nu Instruments at Wrexham Industrial Estate, as well as a vegetarian alternative.
The Southern Slow Roast Menu is a great way to feed guests with varying tastes, as you choose three tasty marinated meats and four side dishes, and alongside a veggie dish, there's something for everyone. Nu Instruments decided on our pulled beef, Cajun chicken, and bbq spare ribs, with coleslaw, corn on the cob, a green leaf salad and sweet potato wedges, as well as our delicious halloumi skewers for the vegetarians.
On the day of the event, our Hog Roast Ruthin team of Colette, Alex and Nicky arrived hours before service, as the meat would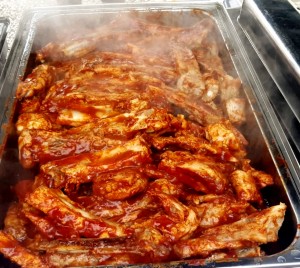 take a few hours to slowly sizzle away to perfection. Once we set up our equipment, we roasted the chicken, beef and spare ribs for ages, all at a low temperature, which would produce soft and tender mouthfuls of meat. Nearer the time of service, we cracked on with the accompanying dishes, so putting together a fresh salad and our homemade coleslaw, cooking the spicy wedges until soft and fluffy on the inside and crispy on the outside, and the corn on the cob and kebabs until perfectly done. Once the fresh bread rolls and sauces were out, we were finally ready to serve.