18th birthday parties come in many different forms and are entirely based on the hobbies and preferences of the birthday boy or girl! Hog Roast Moelfre have catered for many different styles of 18th birthdays- formal dinners, family events, garden parties, discos, and much more. But catering for a go-karting party was something brand new to us! Keep reading to find out how we did it…
Callum's mum reached out to hire us to cater for her sons 18th birthday party. Hog Roast Moelfre are always happy to be part of an event as special as an 18th, so we got to work creating the perfect menu. Callum was having a go-karting party with his friends, at a track local to their hometown. After they had finished the racing they were returning to the garden of Callum's family home to enjoy some delicious Hog Roast Moelfre catering with friends and family. We were told that the family often host summer barbeques and enjoy this style of catering, so we provided our delicious BBQ menu for the event.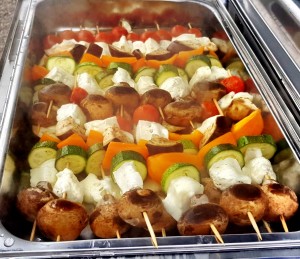 While Callum and his friends were enjoying their go-karting, our team were busy preparing and cooking the menu. The BBQ menu has many different components, making it a versatile option that has something for everyone to enjoy. For the main course, we grilled spareribs, beef burgers, chicken kebabs, succulent sausages and grilled veggie skewers. This was accompanied by a selection of delicious salad options, as well as freshly made chips and sweet potato fries.
When it was time for the catering to begin, Callum and his guests lined up to enjoy our delicious catering. There was a main dish for everyone to enjoy and we ensured that every guest had a delicious meal of their choosing. The catering went down a treat and it was the perfect way to create a memorable 18th birthday party!
Have you got a special birthday approaching in 2021 or 2022? If so, get in touch with Hog Roast Moelfre today to book your catering. Simply let us know your party size, date and location and we can begin to plan your perfect menu.