Just the other week Hog Roast Rhosneigr were delighted to be called out to one of our local business clients to help them celebrate a year to the day since re-opening from the COVID-19 pandemic. It was a delightful day for all as the staff all shared in our delicious lunch spread made up for them fresh by Our Catering Manager. They were able to celebrate returning safely to work for one year in style with us and our delicious hog roast menu.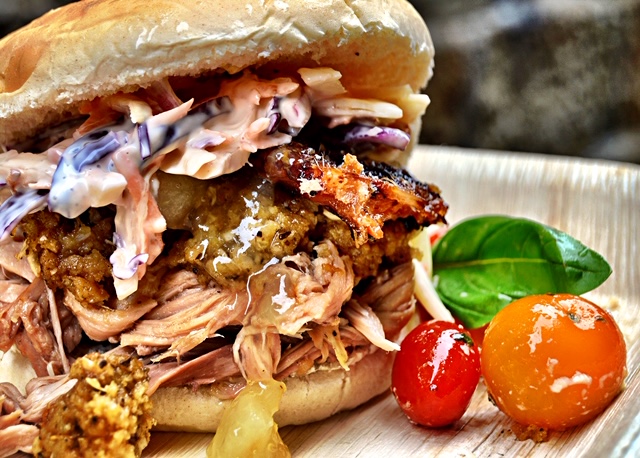 At Hog Roast Rhosneigr we ourselves have understood the struggles and pressures on local businesses to keep ends together during the pandemic and reworking our strategies to allow for work to continue in a safe and comfortable manner. We've made do as best we can thanks to all of our wonderful and hard-working staff who have all remained so committed to the Hog Roast Rhosneigr goal: feeding our local communities and bringing joy to events through spectacular food. We're delighted to see other businesses continue to flourish once again even if changes have had to be made, and so we're delighted too to also be able to share just a little in helping them get back to work and keep motivated. Our exquisite foods and stylish catering serving will do just that for your staff as we break you from the mundane of home sandwiches and crisp packets we all had to endure for a while stuck at home. Now enjoy a stylish lunch made fresh for you with our incredible hog roast. We guarantee that it will raise spirits immeasurably and helps act as a good bonding session again as we all reunite and reconnect.
It was fortunate that the sun stayed out during this last outing meaning we could keep the lunch outdoors where the sun shone and where safety remains much easier to maintain. It also allowed our incredible hog roast machine to be put to its proper use as Our Catering manager got to fire up the grill to his heart's content. It was a brilliant sight for all of us to enjoy, and our client made sure to take plenty of pictures on the day to mark the wonderful occasion.