One week to go until the kids go back to school. No more zoom lessons, no more fights to get them to do their work, no more teachers pestering you to make sure your child does the work. You are no longer a stand-in teacher; you can let the professionals take over and enjoy being furloughed or working from home stress-free!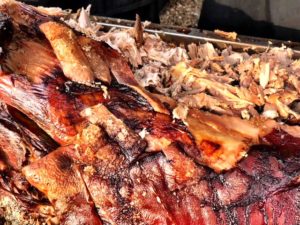 Hog Roast Llanberis thinks you have been doing an amazing job, you've had the patience of a saint and have done your best tackling the challenges of maths, English literature, physics and geography. You deserve a medal, but a treat from Hog Roast Llanberis will also do the job!
Why not book a takeaway with a difference? Hog Roast Llanberis calls it their 'Gourmet Delivery' where you book a menu, and they drop it off, hassle free.
Do you fancy an antipasti board? A rustic-styled board made up of delicious cheeses and meats including Parma ham, salami, mature cheddar and French brie. To compliment these, a selection of sun-dried tomatoes, ordinary and stuffed olives, rocket and artisan breads such as ciabatta. It is a board of pure perfection, incredibly tasty and completely filling!
How about a pork and stuffing roll? Choose from either a white, wholemeal, seeded or cheesy roll filled with juicy and scrumptious pulled pork, tasteful sage and onion stuffing and finished with a sauce of your choice. Will you go with traditional apple sauce? Or maybe new favourites; sweet chilli or BBQ. A pork and stuffing roll is not complete without a portion of delicious, crunchy crackling – yum!
We can do a beef brisket roll. The beef is marinated overnight in a Texan-BBQ sauce before being slowly roasted for 8 hours, by this point the meat is that tender that it just falls apart creating a melt-in-the-mouth consistency. This is complimented perfectly with crunchy homemade coleslaw and a handful of sweet potato fries – what a party in the mouth!
Book now to celebrate what looks like the end of the road of home-schooling!