In the spirit of poetic eloquence, the 5th of October marks National Poetry Day, a celebration that has graced our calendars for nearly three decades. Conceived as a tribute to the art of poetry and its profound impact, this day has become a treasured occasion. And this year, Hog Roast Capel Coch had the distinct pleasure of being part of a special event that paid homage to this day.
Organised by local event planners, this gathering brought the community together for an afternoon filled with craft beer, cider, poetry readings, live music, and, of course, a delectable hog roast prepared by our very own catering manager, Terry.
The event was not just about revelry; it was a heart warming initiative to support children's literacy. All the proceeds from the event went towards a children's literacy charity, ensuring that the joy of reading and writing is passed on to the next generation.
One of the highlights of the day was the poetry reading competition, where participants recited their favourite poems. The best recited poem was awarded, adding an element of friendly competition to the celebration. In addition to this, a raffle with enticing prizes kept the excitement levels high, and a talented face painting artist added a touch of whimsy to the proceedings. For bookworms and poetry enthusiasts, the event had something special in store. Stalls selling novels and poetry books offered guests the opportunity to expand their personal libraries.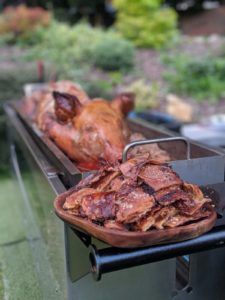 When it came to the food, Hog Roast Capel Coch did not disappoint. Our sumptuous hog roast rolls, complete with crispy crackling, savoury stuffing, and tangy applesauce, were an instant hit. Homemade coleslaw and mixed fries added the perfect accompaniments, while our grilled vegetable and halloumi kebabs with flatbreads, chilli sauce, and tzatziki dip catered to the taste buds of vegetarian and vegan guests.
The response to our food was overwhelming, with guests returning for seconds and even thirds – a true testament to the quality and flavour of our dishes. There's no greater compliment to a caterer than seeing satisfied smiles and empty plates, that's for sure!
It was a fantastic event all round, and as National Poetry Day came to a close, it left behind not only the echoes of beautiful verses, but also the flavours and memories created by Hog Roast Capel Coch.