It was so cold and windy as we left the office at the weekend, we were all wrapped up in hats and scarves, heading north to cater with Hog Roast Ruthin for a bowling club. We hadn't catered for these guys before and we were really looking forward to it.
They had had a new annex built and they were having a party to celebrate and show to all the members and family. Catering for 50 guests, a rather small event to what we are used to but equally as important. When we arrived we introduced ourselves and chatted to Robert, the guy who booked us. He said the club had been going for years but the club house was too small and so the members did raffles, while sponsors and local builders helped out for free to make the extension and we had the honour of being the first people to use it!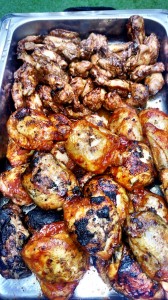 We set up the prep table and the machines and we began to do our magic! We placed some chicken breasts and legs on the machine, which take no time at all to cook, and the chicken cooks to perfection time and time again. We then unloaded the buns and wraps in every flavour and size imaginable we like to offer a good selection to please all. We then began to make large bowls of salads and some tasty dressings for the salads and we began to create a wonderful cheese board using a large slate plate and placing an assortment of different cheeses on the platter. Here at Hog Roast Ruthin we use fresh wholesome ingredients nothing less will ever do. We then filled the tables with dips we made using mustard and honey and made a lovely fresh pot of stuffing that guests love and goes amazing with the chicken.
When the guests arrived they were very impressed with the new annex and even more impressed at the sight of the Hog Roast Ruthin food. We removed the chicken and placed it on a server and the guests were telling us in between mouth full's how delicious it tasted. The guests then helped themselves to the food on the tables and Robert said we had done him proud and he was so pleased with how well the day turned out and we were proud to be part of it.