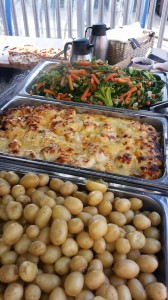 At hog roast Trofarth, we are happy to offer our services to any kind of event. All our team have individual roles to play and come together to create a positive, fast paced company. This means we can be flexible when it comes to bookings and help some customers for last minute get together. Earlier this year, we were contacted by Margaret who wanted our team to feed her family at a small party as her sons were travelling back from Australia for a couple of weeks. She called us a few weeks in advance and ordered a small hog, salads, potatoes and our fresh, bread rolls.
When the date came round our team set up at Margaret's house in Trofarth centre. We were asked to cater inside as the bitter weather was no place for a party. At hog roast Trofarth, we offer both inside and outside events to allow our guests to have flexibility when booking a venue.
Margaret lived in a little cottage with an open plan kitchen, this is where we set up the equipment. Soon enough the team were roasting the meat and preparing our famous herb potatoes ready to surprise Margaret's sons with. As they arrived, they complimented the gorgeous smells coming from the kitchen, it didn't take long for her sons and family to come and investigate our display of scrumptious foods. An hour in and their plates were piled high with tender pig, steaming hot potatoes and of course, our fluffy rolls. Delighted smiles and filled tummies created a cosy atmosphere. Margaret personally thanked our team for making the day so special.
Shortly after we finished tiding away our equipment and cleaning up the area, we boxed up the left-over meat and handed it to the family, there was enough for each member to take some home and remember our wonderful hog roast Trofarth. Margaret asked for some more bookings throughout the year and thoroughly enjoyed our unique buffet.