Today's blog follows my latest experience catering for a corporate business event; a conference for a popular motor sales brand focused on the launch of a new product. Now, for anyone who has ever attended a business conference knows one of the highlights certainly has to be the huge amounts of delicious food and snacks that are provided throughout! No one can pay attention to anything with a grumbling tummy – although with that being said i'm not sure I could concentrate with the smell of a freshly cooked hog roast Caernarfon being whipped up in the next room either!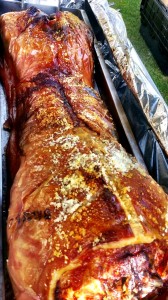 The venue for the day was in the very large function room of a local hotel. In certain very well ventilated venues we are able to do an aspect of our cooking inside, however for this particular venue we cooked up our hog outside, before bringing the delightfully cooked goods inside for serving up buffet style as per the organisers requests. The menu chosen for the day was our gourmet buffet, perfect for these sort of entertaining occasions. We cooked up our renowned slow roasted free range whole pig, turned carefully over open flames for that succulent pork meat and crispy crackling. And what better to pair tasty pork with than our freshly homemade apple sauce, which we prepared on venue with local fresh apples; it couldn't be fresher!
Finally, my personal favourite and the 'Pierre de resistance' as it was dubbed by one guest – our rich and comforting sage and onion stuffing. There's nothing better than piling pork, stuffing and apple sauce high on a fresh floured bread roll! Comfort food, hog roast Caernarfon style. And of course, we served all of this up with a number of our delicious gourmet condiments and sides, including mouth watering herb dressed new potatoes, tomato and mozzarella salad and our zesty homemade coleslaw.
For our gourmet buffet selection, we served up our food on our high quality disposable crockery, which is often greatly favoured by organisers as it requires minimal clean up ensuring that the next segment of the event can be up and running in record time! The guests mainly comprised of chatty business men who had no hesitation in taking off their suit jackets and rolling up their sleeves to really sink their teeth into yummy hog roast rolls and not hesitating in coming back for seconds – their only qualm? They wished a nap time to rest their full and satisfied bellies had been scheduled into the days itinerary!