When I catered James' birthday party over the weekend, I was glad I was behind the food station, as it was a karaoke party and anyone who knows me knows I really can't sing for toffee. Instead of filling the guests' ears with terrible sounds like stray cats wailing in dark alleys, I was more than happy to be filling the guests' tummies with our wonderful food.
James is one of our regular customers who enjoys a good old hog roast Nefyn and even had it for his wedding reception a couple of years ago. That function was a formal affair, where we served delicate little hors d'oeuvres to guests as they arrived and impressed with fancy sit-down starters and desserts as well as the hog roast main course. This time, the birthday boy wanted our hog roast rolls, a couple of nice salads and a potato option.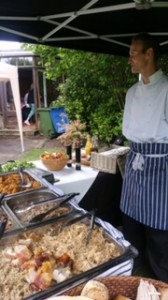 We arrived at the private house venue on Saturday a few hours before the party was due to start, as it takes time to slowly cook a hog. Roasting a whole pig is not a quick process. You can't cook it fast as it will burn or bubble, so we always recommend around an hour of roasting per 10kg of meat. For this 50kg beast, we had at least 5 hours of cooking and checking on it. So we set up the gazebo and serving station, prepared the hog for cooking and turned the hog roast machine on, while James' party planners were busy decorating the house and garden and he was trying out the karaoke machine.
Some hours later, the hog roast Nefyn was cooked to perfection, with exceptional, crispy crackling and a juicy pile of meat waiting to be sliced, and there was a nice pile of baked potatoes done beautifully. The guests had started to arrive, some dressed as pop stars and even one as an opera singer, and everyone kept asking when the hog roast Nefyn would be ready. As they took turns to belt out classics, our team freshly prepared the salad and coleslaw dishes, sliced the bread rolls and dished up the stuffing and apple sauce. It was quite apt that it was serving time just as James was singing along to 'Let's Get It On' by Marvin Gaye. The guests got it on alright and stripped the hog clean!