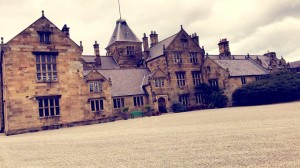 Hog Roast Flintshire has helped many of our customers celebrate milestone events with their guests over the years, from special birthdays to retirements and wedding days to christenings and everything in-between. For a recent party that we catered at Flintshire's stunning Mostyn Hall, in Mostyn near Holywell, the party was to honour Richard, Mostyn Hall's Land Agent, who has worked there for an amazing 40 years. Samantha, PA to the MD at Mostyn Estates Limited, booked us in for a garden party at the beautiful venue for Richard's special occasion and we looked forward to serving some scrumptious fare.
You may not know that Hog Roast Flintshire has a variety of menus for our customers to select from, and you can mix and match items to suit your wants and needs, including for personal tastes and special diets. However, sometimes a menu of ours is perfect as it is, and on this day, we would be serving our very popular Private Party Menu 4 on real crockery, for more of a formal feel. With a hog roast centrepiece, potato wedges and various fresh salads, Richard would feel decidedly spoiled at his party.
The Hog Roast Flintshire team on the day consisted of Head Chef Alex, Colette, Dean and Ash, who all worked hard to create the food that will surely invoke memories for years to come. Alex roasted a perfect hog, cooked tasty wedges until they were crisp on the outside and soft and fluffy on the inside and put together some delicious side salads, including a crispy Thai salad, a Caesar salad and a pasta salad with cherry tomatoes and cucumber.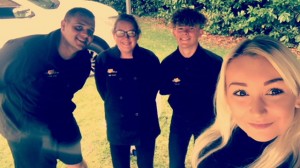 The guests all arrived at 2pm for speeches in the hall and then joined our team outside for the garden party at 2.45pm. Soon after, we were serving our fabulous food to the hungry guests. We had some lovely compliments on this day, including from Samantha, who said everybody thoroughly enjoyed our delicious food, and then we quietly cleared away, leaving some happy clients, as well as Richard and his guests, to enjoy the rest of his well-deserved celebration.