For Hog Roast Conwy the phone has been ringing nonstop lately, with everyone keen for a taste of our slow cooked food. This time of year is well and truly wedding season however and so in our diaries you will find every weekend booked up with numerous weddings which is what we love to see!
Todays event had been booked by Holly who was looking for an alfresco dining menu for one hundred and forty people  during the day and one hundred people at the evening event being held at the stunning Caer Rhun Hall.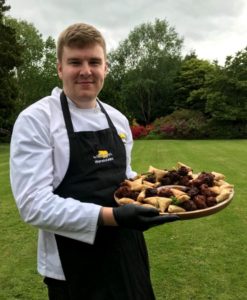 Our Hog Roast Conwy catering team for the day were Ben and Beth who were all set for this full day event. As always with any event we like to arrive early to ensure that everything goes without a hitch and to ensure that our food is cooked perfectly and served bang on time. First up was the alfresco menu with a selection of canapes, slow roasted pork and lamb followed by some beautifully handcrafted desserts. This menu was to be served at half past four in the afternoon just after the ceremony had taken place and so no doubt everyone would be hungry and eager to eat.
Following the best man's speech, we served up the first course which went down a treat. We received numerous compliments from the guests and we were pleased to see we had done the bride and groom proud!
Later on in the evening we were busy again preparing a BBQ menu with some vegetarian skewers and lots of wedges to keep guests dancing all night long! Its great to cater at an event like this as by the end you really feel you have been an integral part of the day and its always lovely to see guests enjoying themselves especially at a wedding!