A local climbing club decided they wanted to do something special this year to mark the tenth anniversary of the club's existence and they all unanimously decided that a hog roast was the way to go. The event organisers and volunteer caterers for the day, weren't sure if they would be able to manage it on their own though, as they thought hog roast machines looked like rather complicated contraptions, but their opinion changed rapidly when they were introduced to our Hogmaster!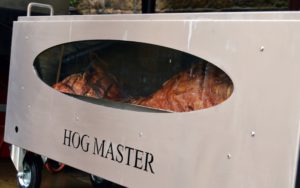 They found it be extremely easy to use, especially after receiving a helpful tutorial from our delivery team, and they told us that they couldn't believe how much pork it could cook in one go! They found the service table attachment to be a massive added bonus, as it meant they didn't have to mess about moving lots of furniture around because the Hogmaster provided their serving space for them with its cleverly designed lid that can be turned into a stainless steel table!
A machine is of course, only as impressive as the results it produces and the Hogmaster certainly didn't let them down in that department! All of the climbing companions and their families were treated to the most succulent slow-roasted meat and the crispiest crackling imaginable, without it causing the caterers for the day any stress whatsoever, and very little in the way of effort.
They also felt that the glass viewing panel at the front was a great feature, as it allowed everyone to gather around and watch the meat cooking, which created a very sociable atmosphere and as well as whetting everyone's appetites, it added a bit of theatre to what is in reality a completely foolproof cooking process thanks to the Hogmaster!
The climbing club's 10 year anniversary party was a big hit all around, especially where the food was concerned. Everyone was really glad they made the decision to hire the Hogmaster for the day, especially the people who actually had to do the cooking, because the Hogmaster made their lives so much easier and allowed them to treat everyone to some great food without having to break too much of a sweat!