You may well know Hog Roast St Asaph as the best choice of caterers, both near and far, as we often cater further away to cover for other franchises too. But did you know that we have much more on offer to our customers? If you're looking for somewhere to hire a hog roast machine, look no further as we can do this as well, and our professional chefs will show you what to do and how to get the best out of our equipment to cook up a storm yourself. We also have other strings to our bow too, including training other hog and spit roast businesses the art of this fantastic form of cooking and we even make and sell our own range of hog roast machines. Whatever your catering needs, Hog Roast St Asaph can always assist you.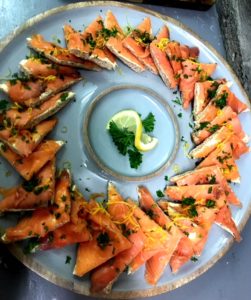 When Di and Jay contacted us recently, they were looking for high-quality caterers to provide some lovely food for their 40th wedding anniversary but they also wanted some extras. True to form, we can always provide additional options if ever needed, and we have various menus that our customers are welcome to mix and match. For this party, with fifty guests of family and friends invited, Di and Jay asked us to start the day off by offering their guests some tasty, handmade canapés and drinks, waiter-served, then serve pigs in buns made from a freshly-cooked, local hog, and also to serve a vegetarian main dish. We're often asked to cater special diets, and for the vegetarian guests at this party, we would be grilling skewered halloumi and vegetables and serving them with pitta bread and a Tzatziki dip.
On the day of the anniversary celebration, our Hog Roast St Asaph chef and team members arrived at the hotel venue several hours before service and set up outside in the gardens. After preparing the meat, it sizzled away for a long, long time. We made six delicious canapés and served them with bubbly and orange juice to welcome the couple and their guests, and then the centrepiece hog wowed everyone with the sight, smells and, of course, the taste. The veggie guests were also wowed with their main course and we were thanked by Di and Jay for ensuring that everyone could enjoy our food on this special day.