The latest clients at Hog Roast Holyhead were initially unsure about whether or not the team would do the catering for their special event as the guest list was rather low. The clients wanted a delicious buffet for them and their 9 guests to celebrate the christening of their son. But the team quickly put the clients mind at ease, Hog Roast THolyhead caters for event with just one or two guests all the way up to a guest list of several hundred.
The clients wanted a rather simple but still delicious buffet for them and their guests to enjoy at their home after the christening of their baby. As such they worked with the team to put together a bespoke catering package that met their needs and their budget.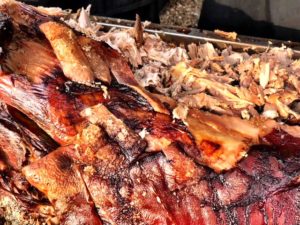 The buffet menu did not include any dedicated vegetarian or vegan choices, as the guests were all well known to the clients and they all ate meat. The main attraction at the buffet table was the Slow Roasted Pig that was served with Apple Sauce, Homemade Sage and Onion Stuffing and delicious Crispy Crackling. This Classic Hog Roast was also served with Soft Floured Rolls and an assortment of dips and condiments. Rounding off the buffet was a large platter of fries, these were a mix of regular potato and sweet potato fries.
As part of the catering package that the clients paid for all the food was prepared fresh at the private home venue on the day of the party. The Catering Manager arrived at the client's home several hours before the 3:30pm serving time, this ensured that there was enough time to set up the cooking equipment and serving table before getting to work.
When 3:30pm rolled around the clients were absolutely delighted by the buffet. There was plenty of food for them and their guests to enjoy as they celebrated the christening of their son. Once the buffet was over the Catering Manager discreetly tidied away, all rubbish generated through he buffet was disposed of by the team, including the disposable crockery and cutlery they had provided.
It had been a very successful celebration.