This week, the team from Hog Roast Market Drayton catered for a Careers Fair, an event organised for young jobseekers and school and college graduates, to get a taste of the vast range of apprenticeships available to them. We spoke to Ranvir, one of the event organisers, about the particulars of the event. There would be roughly 300 expected guests attending the six hour long convention, all of whom were to be fed. The guests would receive a token upon arrival and hand it to our chef when they'd be served their food.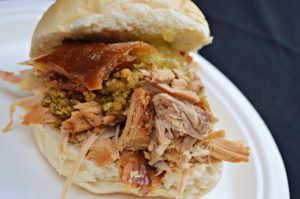 For the choice of food, Ranvir opted for the Hog Rolls, otherwise known as our Pigs in Buns, as well as the Halloumi wraps as an option for vegetarians. We arrived at the venue, a large conference room which had been filled by stalls from the various companies taking part in the convention. We were onsite nice and early, as the companies were still setting up, in order to allow for our slow cooking methods – the key to achieving our great tasty meat and crispy crackling.
The smell of our glorious Hog Roast attracted quite the crowd as it roasted slowly over the next few hours, as the jobseekers and students arrived and had a look round. When it was time to serve a queue had already formed. Our catering assistant from Hog Roast Market Drayton took tickets from the guests and maintained the sauce station, whilst our chef served the guests their Pigs in Buns or Halloumi Wraps with a smile.
The food was served onto high quality disposable plates with napkins, which was easy for the guests to manage whilst on the move, and without cutlery. The guests ate as they browsed for the remaining three hours of the convention, and gained insights into their potential careers. Once all the guests had eaten, there was nothing left to do for the team at Hog Roast Market Drayton but discreetly tidy away their mess and dispose of any waste off site. Ranvir and the rest of the organisers thanked us for helping to make their guests feel more comfortable, which helped enormously with their engagement with the convention.