We get requests to cater for such a wide variety of events here at Hog Roast Nebo and we relish the challenge of providing great food in a diverse range of locations for all manner of celebrations. We spent last Saturday catering for a party to commemorate the 5-year anniversary of a popular local dance school, which has gone from strength to strength since it was established by its owner Michelle in 2013. We love being involved in celebrating the success of local community organisations by doing what we do best: serving up fresh, locally -sourced ingredients in a sociable setting that is guaranteed to bring everyone together.
To mark the 5-year milestone for Michelle's dance school, she had organised a show at a community theatre, which all of her pupils (aged from 5 to 65!) were taking part in, and to reward them for all of their hard work and hours of practice, she asked Hog Roast Nebo to provide a tasty treat for them at the after-show party.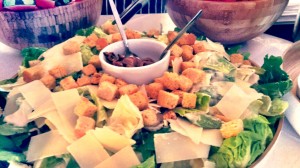 With 80 guests including dancers, friends and family, and a range of different age groups to cater for, we advised Michelle on best menu options to suit her needs. With enough chorography to think about on the day already, Michelle didn't want anything too formal and opted for a relaxed buffet-style menu of traditional slowed roasted pork served in fresh bread rolls, accompanied by a varied selection of fresh salads and sides. Michelle had initially assumed that we only cook the hog roast at the venue (which she thought was impressive enough!), but she was very pleased to discover that we also prepare all of our top-quality side dishes and accompaniments on site too.
Whilst the dress rehearsal was taking place on stage, our dynamic duo from the Hog Roast Nebo catering team got down to business in the function room next door freshly preparing everything from scratch. The hog roast was well on its way to succulent perfection as the audience sat down to enjoy the show and by the time the applause had died down after the big finale, we were waiting in the wings to greet Michelle's dancers with a well-deserved feast. They had certainly worked up an appetite by then after all those dance numbers and Hog Roast Nebo were glad to be on hand to help them celebrate their success!