We recently catered for an event in Rhewl, we have previously done a number of Hog Roasts in Rhewl and it is a location that we are familiar with. This particular event was at the local golf club for their annual members presentation evening, and with 70 guests attending we knew our machine of choice had to be our trusty Hogmaster. With the time of year and weather being very unpredictable we had already planned to cook and serve indoor, and as we were close to some lovely open patio doors we knew it would be well ventilated for us.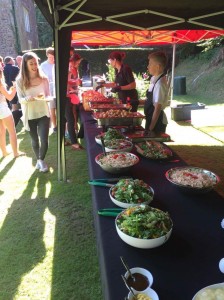 The presentations got underway while we began our prep, (what a lot of awards there were too). We were prepping our salads while the pig was in its final stages of roasting, very close to being perfectly cooked! We are always very accurate with our timings and by liaising with Steph (who was in charge that evening) we knew what time the presentations were due to conclude and when we could begin serving. The last few presentations were lined up and we knew we didn't have much longer until the guests would be tucking into their succulent hog roast rolls!
The golf club wanted the evening to be quite formal so Steph had requested to provide the crockery themselves, which was not a problem for us. As the presentations concluded the guests started to form their queue for the hog roast Rhewl buffet, and with a refill of drinks they were soon enjoying their pig rolls, washed down with a lovely glass of prosecco (my personal favourite). Many guests had opted for seconds too which is always a good thing for us, it means they love it and want to squeeze more in!! Little did some of the guests know that they soon had dessert on the way! We hoped they had not filled up too much on our hog roast rolls! But you know what they say, everyone ALWAYS has room for dessert, and this was definitely the case. The dessert of choice that evening was the very popular chocolate torte, a delicious homemade dessert that is always a favourite amongst the guests! For those who didn't want the chocolate fix we had provided a cheese board, all of our cheeses were locally sourced from Rhewl.
The evening looked a great success and there was still plenty of prosecco going around to the guests while we were leaving!