Our Hog Roast Dinas Dinlle machine hire is so much more than you may think, as we don't just leave you with equipment that you have to figure out yourself. When one of our friendly chefs drops the machine off at your choice of venue (which is included in the rental price), you get their expertise, knowledge and experience as part and parcel too, as they'll walk you through how to use it and how to get the best out of it.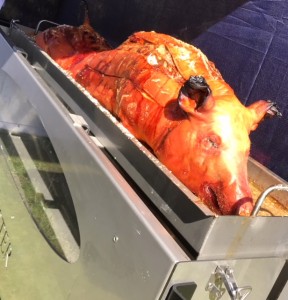 Our hog roasters are actually extremely easy to use anyway, which you may well be surprised at, but we designed them that way, as the machines that we hire out are our very own brand that we manufacture in Lancashire and the same ones that we use when catering all kinds of events and parties. They're also lightweight, easy to move around and run on gas, so if you're a professional caterer yourself, looking to hire to cook for your own customers, you can easily transport the machine anywhere you need and you don't have to worry about needing mains electric.
Nevertheless, if you're thinking of renting a Hog Roast Dinas Dinlle machine to cook at home for family or friends, our machine hire is also suitable, and we have different size machines available, including smaller ones just for you. One thing that our new customers are always amazed at is that our hog roasters were also designed to work like normal ovens, so you can cook inside with one too, just like you would in your own kitchen oven. So while the meat is roasting away above, you could cook your choice of vegetables and potatoes inside, or you could throw in a pizza or two if preferred – whatever you fancy! Whatever you would cook at home, you can cook inside our machines.
Regardless of your reason for wanting to use a hog roast machine, call Hog Roast Dinas Dinlle today to secure your rental and we'll show you everything you need to know, and for an additional price, if needed, we can even supply the same high-quality meat that we use when catering!