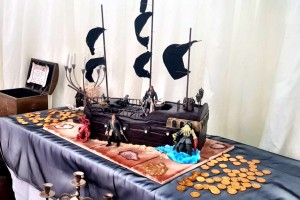 Hog Roast Rhyl has catered many kinds of parties over the years, from birthdays to anniversaries and corporate functions to christenings, as our customers know that we provide high-quality food along with top-class service, and we make it affordable too. Our catering services are suitable for anything that you have in mind, even if that's a Pirates of the Caribbean-themed wedding!
We catered a scrumptious wedding meal for Mr and Mrs Wilson and their 150 guests at Lyons Nant Hall in Prestatyn recently, where the theme would even be adhered to by some of our team members. With our Menu 1, landlubbers and pirates alike would feast on delicious pigs in buns (also known as hog roast rolls), once we had prepared and slow-roasted a hog to perfection. We would also be grilling our veggie skewers for the vegetarian guests, and with chunky halloumi pieces and tasty vegetables including mushrooms, peppers, courgette, red onion and tomatoes, it's no wonder they're so popular.
On the day of the event, Hog Roast Rhyl arrived at Lyons Nant Hall to find that the venue looked absolutely amazing, as it was decked out with everything you can think of for this theme, like maps leading to treasure, treasure chests filled with loot, skeletons, gold coins sprinkled across tables, crocodiles, skull and crossbones banners, and barrels of rum, as well as Pirates of the Caribbean pictures, banners, and figures. There was plenty of black and red, with bunting and decorations overhead and red tablecloths matched with black seat covers, and there was a fabulous 'palm tree' filled with luscious fruits. It had been decorated perfectly.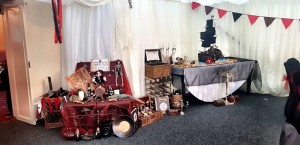 We got on with setting up our equipment and then roasting the hog. Our team members Colette and Adam scrubbed up very well for the occasion and their outfits blended in perfectly and the whole team worked hard to produce and serve mouth-watering dishes that were devoured with relish, when the food was served from 7.30pm. As Jack Sparrow would say, "A wedding? I love weddings. Drinks all around!" and here at Hog Roast Rhyl, we really do have to agree!