When it comes to preparing for the biggest day of your life (no pressure!), the thing that couples tend to agree is one of the most stressful parts of wedding planning, is finding the right caterer for the occasion. Thankfully for loved-up couple Jonathan and Eiriol, they discovered Hog Roast Bangor after hearing about our services from a close family friend who had hired us in the past. Wasting no time, the pair got straight on the phone to our friendly customer service team who after asking a few basic questions, passed them through to our expert catering manager Paul.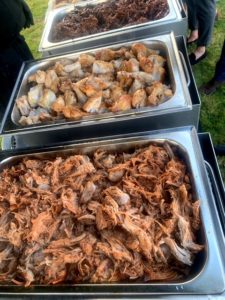 At Hog Roast Bangor, we all love a good outdoor wedding and hoping to make the most of the end of summer weather, Jonathan and Eiriol had organised their reception to take place in Cwm Caeth which is nestled in the heart of Aberglaslyn National Trust and surrounded by stunning wildlife and beautiful cottages. Keeping in theme with the couple's rustic style wedding, Paul recommended our signature southern slow roast menu which draws from American culture and comfort foods which the pair agreed would suit their catering needs best.
While the happy couple were busy getting hitched, Paul and the rest of the Hog Roast Bangor catering crew made their way to the reception venue where they quickly got started on preparing a mouth-watering buffet for 70 people. Setting up next to the spacious marquees, the team pitched the catering gazebos and laid out the real crockery next to a selection of gluten-free rolls, before getting started on slow roasting the meats until they were juicy with a perfectly crispy outer layer.
When the newlyweds arrived, they were blown away by the spread that the catering crew had prepared for them; which included a whole slow roasted pig, BBQ pork butt, Texan 24 hour beef brisket and cajun spiced whole roast chickens with moreish side options of Memphis style crunchy coleslaw, seasonal green leaf salad, cajun spiced sweet potato wedges and skin-on southern style whole baked potatoes. After the bride's dress, the mouth-watering menu was definitely the talk of the day and before leaving the site, the Hog Roast Bangor team discreetly tidied away all of the mess.