Hog Roast Llangernyw can cater just about any kind of special occasion that you'll be hosting, whether it's a private party like a birthday celebration, your wedding day or a christening do or a corporate function, such as a conference, workshop or staff Christmas party. We're well-versed in making delicious food for all of these and much more and we have so much choice and variety on offer to ensure that all of your guests can enjoy what we make, regardless of any personal tastes or dietary needs.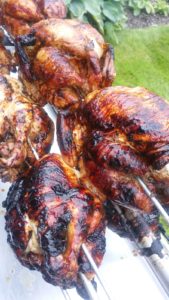 For a long time now, our trusted experts here at Hog Roast Llangernyw have impressed with a wide range of dishes and not just the signature food that we're famed for. While we can cook a mean hog roast, we can also cook a gorgeous spit roast instead if preferred, with your favourite meat, such as lamb, beef, turkey or chicken, and that's whether you prefer yours with rolls and wraps, a garden-fresh salad or two or together with your choice of seasonal vegetables and potatoes. We're also a dab hand at satisfying guests on special diets, such as vegan, vegetarian or gluten-free, and if you let us know your requirements in advance, we can help you to decide on the perfect options for us to rustle up fresh on the day.
Many of our guests also ask for more than a main course and we have a wealth of possibilities to hand, including handmade canapés (as we could welcome your guests with a few, as well as refreshments if needed), in addition to starters, sides and desserts, and you're welcome to design your own menu by mixing and matching them. Whether you're after a side or two, such as gourmet coleslaw, mac and cheese, sweet potato fries or a Greek salad, or a great banquet full of courses, we've got plenty of tasty options available for you to choose from.
Contact Hog Roast Llangernyw to help you with the menu for your next special occasion or we can serve up one of our amazing standalones instead, like our Southern Slow Roast, Loaded Fries, Alfresco or Traditional Barbecue. You won't be disappointed!