Lockdown in Wales has finally come to an end, and if you ask us, there's only one way to properly celebrate – with a hog roast! But let's face it, you probably already guessed we were going to say that, now didn't you?
While it's true that we encourage the inclusion of hog roasts in all sorts of events (not just post-lockdown parties and celebratory occasions), you might not have realised exactly why that is…until now.
You see, the truly spectacular thing about hog roasts – that can't be said for any other culinary or group-dining experience – is that they are especially good at bringing people together. Seriously, whether you're trying to reunite family and friends who haven't seen each other in over a year, have a large corporate event to plan or are commemorating the joining of two families by way of a wedding, you'll soon discover that a hog roast can turn even a room full of strangers into fast friends. So, when you're planning your next party this summer, why not get Hog Roast Wrexham involved?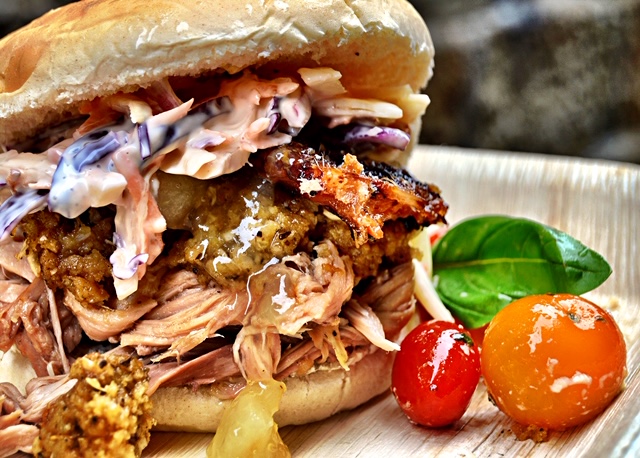 Covering the whole of North Wales, our Hog Roast Wrexham catering manager, Alan, will treat you and your guests to a stunning banquet of flavour-packed pulled pork, crackling and sage and onion stuffing topped off with a dollop of homemade applesauce, all of which is then crammed onto our soft and floury, gluten-free or wholemeal cobs. And if that's not already got your taste buds tingling, then our succulent slow-roasted pigs are also served with refreshing salad options, fluffy potatoes and gourmet 'slaw.
Aiming to please every palate, we also serve a range of meat-free options, which are suitable for both veggie and vegan guests, but these dishes are so delicious that even staunch meat-lovers have been known to have a bite! Oh, and did I mention we also have a large choice of inclusive desserts on offer too?
Whether it's breakfast, lunch dinner; an informal gathering, or an all-important do, you'll find that dining with Hog Roast Wrexham is an unforgettable experience that takes your event from ordinary to extraordinary.