Spitting Pig North Wales had a truly magical time at a wizard-themed wedding in Bangor recently. Dianne booked us to provide a feast at the themed wedding reception at the charming Hendre Hall in Gwynedd's Bangor, the oldest city in Wales. The venue is a listed building that was built in the 1800s by the Penrhyn Estate and it hosts a wide variety of functions including gigs, but is particularly popular for weddings. The cute Victorian buildings are full of character and are surrounded by gorgeous Welsh countryside that's ideal for your wedding photos.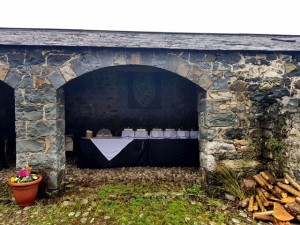 On this damp and dreary day, our team arrived bright-eyed and bushy-tailed to prepare the fat hog we'd brought along to roast to perfection. There would be somewhere between 150 and 200 guests to feed on this day, and we had plenty of food to prepare to satisfy their collective hunger. After prepping the meat on-site at your venue from scratch, the hog sizzles away for several hours until the outside turns a lovely golden brown colour and gives us lots of salty crackling, and the inside is juicy and tender and the meat just falls off the knife and melts in your mouth. Our team used one of our Hogmaster hog roast machines for this event, which ensures gorgeous meat and crackling and can even cook other food, like potatoes and vegetables, at the same time as your hog is roasting away.
As he was busy checking on the meat, our Hog Roast Bangor chef Alex managed to spot Gandalf the Grey walking by, among other suitably attired guests. There were lots of guests who were up for the fancy dress theme, while others preferred to dress normally but it was clear that all the guests were having a ball at this fun wedding reception.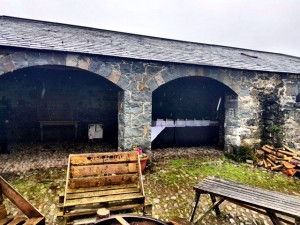 The drizzly weather didn't stop any of the guests from enjoying the food that we prepared, cooked and served in open buildings in the cobbled courtyard on the day. The buildings were decorated inside with the wizard theme and we had a simple black and white colour scheme for our food area. Hog Roast Bangor loves to cater all kinds of parties and events but this was one that we definitely won't forget in a hurry.